We must admit that the Covid-19 pandemic has changed the economic landscape in many different ways. The organizations that ignored the online world found that no escape from prioritizing their online presence. It would have been wise to cope with the case to maintain brand awareness amid the sudden surge in competition. As a result of COVID-19, the future of e-commerce will be crowded with new and unique opportunities, threats, and challenges. It has greatly impacted the global economy.
But the first thing we must think of, the consumer behavior towards online shopping, and how they accepted it. COVID-19 has forced customers to change the way they preferred for shopping. There is an increasing shift in consumer buying behavior from traditional shopping to online shopping.
The National Retail Federation (NRF) surveyed the online shopping behavior of consumers in this pandemic situation and looked at some of the consumer buying behavior changes as follows:
According to the survey, 9 out of 10 customers have changed their shopping habits to online shopping.

The results were supportive with over 50% of customers changing their traditional shopping habits by ordering products online.

About 6 in 10 customers stated that they avoid going to the store due to fear of infection and have ordered necessary goods from Internet Marketing Tools.
All these behavioral changes are not permanent, but few will last permanently. For society to recover with this survival mechanism, this digital online shopping adoption is likely to become permanent. So, in the end, this pandemic situation has been classified into two aspects: one is a shift in customer behavior that avoids public crowded gatherings, and the second is more movement towards digital adoption.
The future of eCommerce is challenging and holds more unique opportunities and threats. As the industry was just a baby nearly a decade ago. Suddenly, its 10-year growth is an exceptional growth that happened in the first quarter of 2020.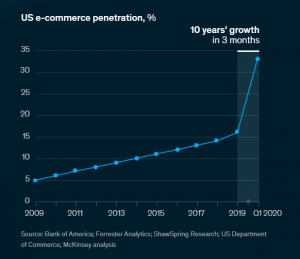 Source: McKinsey&Company
So, as a result of this, we can conclude that the future of e-commerce will be overcrowded with new and unique opportunities, threats, and challenges. 
Nearly 150,000,000 customers have become first-time online buyers in the COVID-19 pandemic.
However, how will it be possible to scale when the future of e-commerce becomes continuously crowded like any battlefield we have seen? Well, let's find out.
Key Tactics to Scale Your eCommerce strategy:
To stand out in the overcrowded eCommerce future. In particular, brands must scale their strategy by delivering a seamless customer experience. Here are several tactics to consider as a general base idea for your eCommerce strategy:
Once you start your business you must know that the word "Plan" is your journey friend. It's vital for your business, no matter what stage you're at.
Set realistic goals that can be quarterly or yearly goals to plan. This provides you time to prepare for future growth. As you get near these goals, you are already prepared for the resources you need to achieve your goal.
Monitoring your business performance gives you direct insights into your speed of growth.
There are important growth metrics that you must put into consideration:
Sales performance:

Is the first metric you want to start analyzing when you search for a scale.

Having strong sales performance is a key indicator of your scalability as it reflects the health of your business. If the metrics are positive and growing, you can confirm that you are on the track.

Ecommerce conversion:

Are your target shoppers online or offline? Where do they spend their money, what are their buying habits?

Product performance

: What are your bestsellers? Is there an opportunity to grow your product line?
Getting insights into your analysis will provide you with a strong view and more confidence when spending money on scaling your online business.
Create a buzz, always engage.
Building current interest and traffic is a great way to improve growth. The first step to creating a buzz is on social media for many. While this is a great way to build posts, you don't want to put all of your eggs in one basket – especially considering how often the social media algorithms change.
So, all of us are currently in a state of flux in the end.
As a business owner, you are facing much of the same risk, while trying to support your customers' needs and your own. so cope with the world and invest in technology. As you grow, you'll need technology to support your business.
zVendo offers you a full e-commerce platform to help you meet your customer needs.